Australia
Australia is one of the most expensive and also most interesting destinations in our round the world trip. We are going to reach Australia and Oceania from the island of Bali and we hope we will once again experience a
real cultural shock. Since the year 1901 Australia has been a federation, originally made up of 6 colonial districts. Australia was initially used by Britain as a prisoner colony. 200 years later it is one of the fastest growing economies and one of the most democratic places on Earth. It is interesting that this part of the world, which lies in the middle of the ocean, was populated many years ago beofre the colonists arrived. It is estimated that settlements started there in around 50 000 years ago.
Vacation and travelling in Australia
We realize that travelling in Australia is an experience itself. Therefore we would like to see many interesting places within our round the world trip. Unfortunately because of really long distances we won't be able to see all of them. Even so we believe we will get to know the real Aussie atmosphere. And what we don't see on ourtour the first
time we can leave for another time. There are many attractions in Australia. Our vacation in Australia will probably start in Melbourne. Melbourne is a beautiful city in south-east Australia. This city is called the city of parks and gardens. Besides plants there are also penguins living there and of course we plan to visit them. This was originally the capital city but is now the center of entertainment. There is a Formula 1 race every year and if you are not into fast cars and motosports in general you can still enjoy the endless beaches. Nature in Australia is the real jewel. Melbourne's surroundings prove that. It is possible to visit parks with rain forests or spots where one can meet whales face to face. Other interesting places are parks full of rare spcies of flora or giant trees.
The next location where we want to go is Sydney. There is by all accounts the most famous attraction in Australia. The Sydney Opera house withthe Harbour Bridge in the background. Sydney surely offers more architectural jewels that travelers might want to visit. Like Melboure, Sydney is surrounded by many beautiful beaches where we can enjoy some free time to recharge our batteries for our next trip which will be to Brisbane. In Brisbane we are interested in swimming with dolphins in free nature and their feeding on the island  ofTangaloomawhich is not far from Brisbane. And once we have explored the city and its surrounding we will set up our most exciting journey in Australia – to Cairns. Cairns is located by the Great Barrier Reef where we want to go scuba-diving. The Great Barrier Reef is the largest coral reef on Earth, and has been a protected by UNESCO site since 1991. Thanks to this protection we can enjoy this unique place.
Attractions in Australia
Among theinteresting facts about Australiais their national anthem, which are actually 3 anthems and the fact that by area it is as large as the USA. Weather in Australia is mostly dry and warm. That is quite good for many activities but also for travelling. Therefore this is the most visited part of the world during cold months in northern hemisphere. The weather is always opposite. Transportation is also important thing to notice.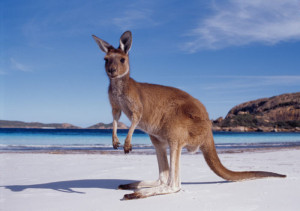 Transportation in Australiais to a high standard. It is necessary to keep in mind that when driving you need to use the left-hand  side of the road. But the roads are not so busy due to the large distances. More often people take advantage of air transport or trains. And we will do the same within our trip around the world in Australia. We will travel by trains, local buses or by car-pooling. Everything costs money and in Australia this is valid twice as much. In order to save we will choose our accommodation in Australia carefully. We mainly want to search for places to stay on Couchsurfing. Couchsurfing will also help us to get in touch with the locals. Maybe we will be lucky and we will try sample the local cuisine and try the famous dessert called Pavlova with some local Aussies. And if not, we can try it in the neighboring country to Australia  which is New Zealand.
Welcome to Australia!
Tento příspěvek je také k dispozici v jazyce: Czech