Koh Tao, Koh Phangan & Koh Samui - Thai islands
From Bangkok we set towards the Gulf of Thailand to have fun and relax a bit on our trip around the world at the Thai islands of Koh Tao, Koh Phangan & Koh Samui. Getting on the islands is nothing difficult. As our first stop we chose Ko Tao, the closest island. From Bangkok we first had to take a bus and then catch a ferry. We found a great deal, all in one for 700 THB/person (cca 20 USD). We travelled all night and reached the island in the morning.
Koh Tao – small island with perfect snorkeling spot
Koh Tao is a small island but very touristy. When we arrived to the port cab drivers were clinging to us and offered us ride. We rejected because it was so pricey and then we found out they even pack 9 people in the back of the car and then transfer them to their hotels and hostels together. We rather took 2.5 km walk along the coastal promenade and enjoyed beautiful views. The island is so small that we did not even rent a motorbike because everything is basically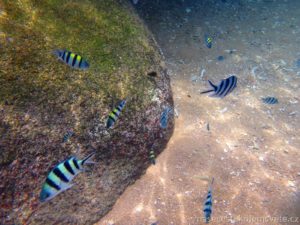 in walkable distance.
There are spectacular beaches on the island but unfortunately you will not be surprised about the amount of garbage in there. Thailand has become very renowned for it and Thai people do not seem to be concerned. Anytime we met someone cleaning the beaches or see they were never Thais, only foreigners. Even we sometimes took trash somewhere else because we felt sorry.
Things are 2x-3x more expensive on the island compare to the inland or Bangkok. But if you look carefully you can find cheaper food and drink stalls in small lanes. If not, there is also 7 Eleven store where you can definitely make cheap shopping, great for backpackers or budget travelers.
The most favourite trip from the island is for sure a boat trip to Koh Nang Yuan. In particular it is known for its small beach connecting two islets. We wanted to go there but paying 300 THB/person (cca 8,50 USD) for one way 20 minute ride was inordinate rip-off for us and we were not willing to accept it. In the end it paid off, we made our own program, took our masks and snorkels and decided to explore the island on our own. We reached the view point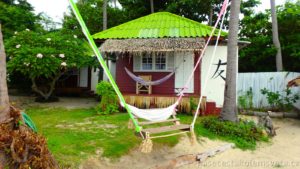 from where we could see Nang Yuan and also found amazing place for snorkeling on Koh Tao. It was located beside the rocks so it was abounded with fish and sea life. Finally we were happy we did not go to the opposite island because it was not really a catalogue idyll. Too many people over there, really overcrowded place and we were on our spot only with 3 other human beings. Simply amazing! And we had a blast and could go on our second island Koh Phangan.
Koh Phangan – hilly island full of goodies
Ferry from Koh Tao to Koh Phangan cost us 350 THB/person (cca 10 USD). On the way there we took a nap because the waves were tugging with the boat a bit. When we arrived to Ko Pha Ngan we headed straight towards our bungalow we booked directly at the seaside for amazing fare, only 240 THB/night (cca 6,80 USD). Since this island is rather larger we had to rent a motorbike. We made a deal with Italian guy living there, he rented us his motorbike
for 150 THB/day (cca 4,26 USD). He did not require passport and the price was great. But it was not the best rent because Koh Phangan is in fact very hilly island and we rented out low power motorbike so Martina sometimes had to walk up the hills on her feet. 😀 But the views were worth it! It was absolutely spectacular to observe beaches and bays surrounded by beautiful green. And the best on the island was the opportunity to enjoy the food. Panthip Market at Koh Phangan is located close to the port and they offer daily fresh grilled sea food, schnitzels, sauces, sweets, simply anything you can think of. Even we ate fill and then went to Koh Samui with full tummies.
Koh Samui – island of coconut and palm groves
Ferry from Koh Phangan to Koh Samui cost 200 THB/person (cca 5,70 USD). Local transportation is not cheap therefore we chose to get into our hotel by songthaew. For approximately 16.5. km we paid 80 THB/person (cca 2,30 USD). Compared to taxi it is almost gratis. We rented a motorbike in our hotel for 200 THB/day (cca 5,70 USD). It is best way of transport for jaunts because Koh Sami is the largest island in the Gulf of Thailand. There are countless beautiful beaches with tranquil water. At many hidden spots located nearby the rocks and smaller cliffs you can enjoy snorkeling. But the most spectacular was the ride throughout the center of the island along the coconut and
palm groves providing humidity and chill. And among these trees you can see monkeys.
There is also the Immigration office at Koh Samui. So if you intend to stay in Thailand longer than you visa allows you, you can simply prolong them here for 30 days for 1900 THB/person (cca 54 USD). The entire visa process lasts cca 20 minutes and officers are really very nice and helpful.
We obtained our visa and were able to go in our wandering in Thailand. From Ko Samui we went to Krabi and 4 islands.
Tento příspěvek je také k dispozici v jazyce: Czech